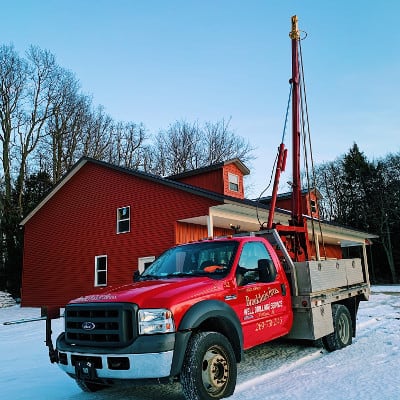 Yes. We are licensed, bonded, and insured. We are registered with the State of Michigan as a "Well Drilling and Pump Installation Contractor".
Our team will walk through a series of questions about your water usage and recommendations for your new well. We'll use geological information as well as comparable water yields from wells in your surrounding area to give you an educated estimate on expected output.
This can vary depending upon your location and how accessible good quality drinking will be. We believe our 100+ years of experience give you an advantage but here are a few other factors that will effect pricing:
1) Depth – we'll quote you a price based on the average well depth for your area.
2) Components – new construction will be more costly as everything in your well system requires installation & setup.
3) State and/or Local Ordinances – some counties have stricter ordinances for location & materials used which can add cost.
4) Your Lot – installations in heavy clay, gravel-filled, or going through solid rock will add additional labor costs to your installation.
Residential Well Water Systems
Broekhuis Well Drilling provides up-front consultation with our design team to go over the location of your well, water requirements, and depth considerations for your area.
With 100+ years of experience across 5 generations, you can trust Broekhuis Well Drilling with your investment.
West Michigan has a rich heritage in agriculture with soy beans, corn, blueberries, and apples to just name a few.  Our team has a great deal of experience with irrigation pumps & wells.
Consult with us on the planning of all your irrigation pumping systems.
Commercial well construction & drilling for municipalities, businesses, housing communities, golf courses, and farms make up the majority of our clients. Call us today at (269) 751-2143 and we'll put our experience to work for you.
An annual well check-up is a good preventative maintenance task for any home owner or business with a private well.  Our team will do a complete review of your system and make any adjustments for water flow / water pressure.
Annual check-ups will ensure your well water is safe and all aspects of your well system are working together efficiently. 
Ask us about setting up an annual check-up contract today!
Home Purchase Well Inspections
Well inspections are designed to give new rural home owners a sense of peace by providing them a complete evaluation of the entire well system.  The national average for a new well is just above $9,000 so new home owners want to make sure the private well is operating as it should.
We will test the submersible pump and how efficient water is recharging into the well. This is followed by evaluating all of the parts up to & including your pressure tank which is most often located in the basement. 
Water quality is also something to consider when purchasing any home.  Most normal home closings require a water quality test as a contingency of the sale.
Well Location & Site Assessments
Well permits are required in most locations in Michigan and provide strict guidelines on placement of wells on a property.  Some counties have ordinances that are more stringent than even those put out by the State of Michigan. Our team is experienced in drilling wells across West Michigan and can consult with you in the early phases of your build.
Broekhuis Bros Well Drilling is registered with the State of Michigan as a "Water Well Drilling and Pump Installation Contractor".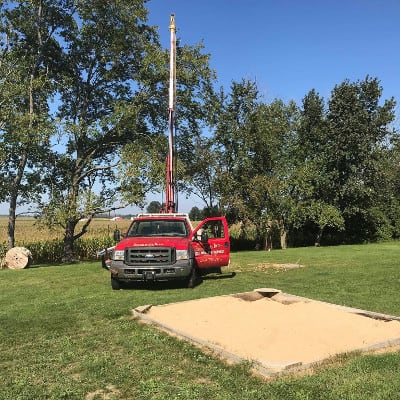 Trace metals like zinc, copper, manganese, & iron are all common water contaminates that can give you the taste of metal. 
You could simply have a low pH level, commonly referred to as "soft water" and this can give your water a sour or acid-like taste.
Regardless of the reason, it's best to know the source of your issue.  Iron & zinc generally tend to have no ill side effects but lead can be toxic.  Get your water tested annually so you know your family is safe.
Here's just a few signs you may have "hard water":
1) Stains – ugly brown or sometimes reddish stains in your toilet.
2) Calcium deposits – appearance of those white, hard water spots.
3) Clogged Shower Heads – deposits from hard water will actually clog up your shower head. You'll notice certain holes are not spraying or there's just a dribble coming out.
**A water softener solution may be your answer.
Well Pump Brands We Trust
Broekhuis Well Drilling is always available for your questions.  If you are in the process of evaluating  a new well on your property, please give us a call at (269) 751-2143.